Coming out of our recent conversation on how best to support Asian American cinema, there are a few things ordinary people can do, especially those living outside cities like SF, LA or NY.
The first is to push your local public library or university library to purchase Asian American movies for their collection. This was extremely hard to do 10 years ago, namely because there was little distribution available for those movies. Nowadays though, many films - both older and contemporary - are available on DVD or VHS. People should push their local institutions to take advantage of that and stock up on Asian American films.
The other, even easier thing you can do is throw a local screening party for you and your friends. Despite the growth in Asian American films gaining distribution, it's still a challenge to be able to see many movies in your local cineplex or even art house theaters. However, many films can be rented through mainstream sources (alas, not all) and that opens up opportunities - never available in a previous era - to experience the diversity of the Asian American filmmaking tradition.
As a resource, here's a list of six films that I'd recommend to any newcomer to Asian American cinema. Some caveats: 1) This is not meant to be a definitive list, especially given that there's been many films I haven't seen, especially in the years since I left the Bay Area and *sniff* my time with CAAM/NAATA behind. Just to give you an idea of how deep the catalog runs,
check this out
- and that is missing dozens of films. However, these six are films that I think belong to whatever you might call an "Asian American film canon" and thus, are useful places to
begin
(just not end). 2) It's weighted more to feature films than documentaries namely because, frankly, I feel like more work is needed to bring up feature filmmaking to where documentaries have been over the last 20 years. 3) The list has a heavy bent towards East Asian American, male filmmakers. That is partially a product of long-standing structural privileges that have created more opportunities for Chinese and Japanese American - and male - filmmakers compared to others (and let's just be frank here - it's not as if those CA and JA filmmakers are what you'd call "privileged" in general). From what I've been seeing in the last 10 years though, things are going to change very, very dramatically, especially with far more women directors out there and a slew of Korean, Filipino, South Asian and Southeast Asian filmmakers on the rise as well. All these qualifiers aside, here's my six picks:
1. (List is in chronological order)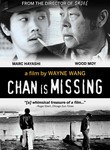 Chan Is Missing
, dir. Wayne Wang, 1982.
Technically, not the first Asian American feature film but the first one to gain any national recognition, plus distribution, and in my opinion, flat-out
the best Asian American feature film
ever made. Which is great, in terms of how brilliant this film is, but also kind of sad that no AA film has ever managed to better it in the 27 years since its release. Hence the
raison d'etre of this site
. In any case, the film is a profound allegory about the search for Asian American identity but manages not to be didactic about it. Fantastic characters throughout and excellent acting by Wood Moy and Marc Hayashi.
2.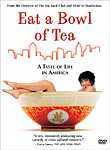 Eat a Bowl of Tea
, dir. Wayne Wang, 1989.
I didn't want to have more than one-film-per-director, but it's hard to not include this film for one important reason: for people who complain there are no films about intra-Asian American romance, well, here you go. Of course, this adaptation of Louis Chu's novel is also very much a family melodrama/generation gap film, with a risque - and hilarious - twist on how the pressures of family and community can weigh down one's sex life. As such, it actually fills in a "one of the best" in a few key categories: family melodrama (believe me, you'd much rather watch this than, say,
Joy Luck Club
), comedy, generation gap, etc. There are, of course, other films that have touched on this - I'm thinking especially of Alice Wu's
Saving Face
and before that, Mina Shum's
Double Happiness
- but in terms of quality of execution,
Tea
still takes this one. The film can seem a little cartoonish at times and the generation gap angle gets overplayed but it is entertaining and has surprisingly more historical depth to it than you might assume.
Also: nice casting (at least on the eyes) with Russell Wong and Cora Miao as the ill-fated couple while Victor Wong does the grumpy old dude bit quite well as Wong's father.
3.
Terminal U.S.A.
, dir. Jon Moritsugu, 1993.
By the good graces of the Almighty, this film is
finally
available on DVD. I have to admit - I'm including this on this list purely for the most selfish reason; it's just one of my favorite Asian American films of all time, namely because it's a brilliant, viciously executed
anti-
Asian American film. Note, it's not that the film is
anti-Asian
American. It's anti-
Asian American film
, which is to say that Moritsugu serves up a biting satire of Asian American family melodramas with enough improper sex, drugs and violence to scar more timid minds. I'd actually recommend you watch this film last, partially because it'd make an awfully good midnight movie, partially because you can get a sense of what Moritsugu is responding to in terms of the cliche themes of so many AA films, past, present and no doubt, future.
4.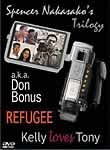 AKA Don Bonus
, dir. Spencer Nakasako, 1995.
Asian American documentaries have been the heart of Asian American filmmaking but because of the economics of docs, they are also the hardest films to find outside of institutional settings (libraries, film festivals, etc.) Luckily, Spencer Nakasako's trio of documentaries focused on Bay Area South-East Asian youth IS more widely avail.
AKA Don Bonus
was the first of these, a stark diary film about a year in the life of Sokly Ny, aka Don Bonus, a Cambodian teenager from the Tenderloin who is struggling with living in the S.F. housing projects, trying to finish high school, and dealing with his unstable family life. A powerful and remarkable film.
4.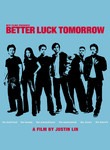 Better Luck Tomorrow
, dir. Justin Lin, 2002.
This is rather obvious choice, I suppose, given that it's the most high-profile AA film of its generation. Besides great admiration for the director and actors, the main reason I'm including
BLT
is that it's a useful starting point for a Gen X/Y perspective on AA feature filmmaking. I mean, all respect due to
Chan Is Missing
but it's not an easy a film to connect with anyone under the age of 30. While I don't think
BLT
is a perfect film, it does have a way of getting conversations started and that's as important as anything, especially for the purposes of this list.
It's also one of the first Asian American features that really doesn't deal with any of the obvious themes that the previous generations have hammered home - no generation gap/family melodramatics, no "where do I fit in?" assimilationist existentialism, and while race and racism enter the picture, it's the AZN characters who do the pistol-whipping. In other words, it's like a film you'd normally see with non-Asian actors except that it's an all-Asian cast. That alone is rather refreshing and groundbreaking in its own way.
5 & 6.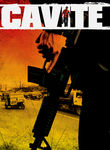 Cavite
, dir. Neill Dela Llana & Ian Gamazon, 2005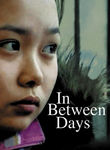 In Between Days
, dir. So Yong Kim, 2006
I'm pairing these two together because they both represent some of the most interesting - and arguably transformative - films of the last decade. By this I mean, they, as much as anything else I can think of, signify the shifting narratives - and geographies - of Asian American filmmaking.
Cavite
takes place almost exclusively in the Philippines and there's nothing particularly "Asian American," let alone "Filipino American" about the story; it just happens to be an intensely arresting thriller about a prodigal Filipino American son who returns to the P.I. for his father's funeral and is promptly roped into what may or may not be a diabolical plot by terrorists. No doubt, the fact that the film takes place outside the U.S. raises the basic question of, "well, is it Asian American still?" and I don't think it's an inappropriate question. I do think, however, this is where things are headed and AA cinema is going to adapt to it one way or another.
Likewise, with
In Between Days
, here's one of the few films dealing with an Asian immigrant yet the film's quiet, subtle touches don't beat you over the head with the "assimilation" stick, even if Aimie's "fitting in" is hinted at during parts of the film. More importantly than that though, just as
Cavite
situates its character within a more global setting,
In Between Days
, like Wayne Wang's similar (but less successful)
Princess of Nebraska
, takes a realistic approach to a generation of immigrants who exist more fluidly with a transnational identity. I think we're going to see more portrayals like this and it will be a welcome - and meaningful - break from tradition.
Wish list + Honorable Mentions:
Who Killed Vincent Chin?
, dir. Christine Choy and Renee Tajima, 1989.
This would have made the list, easily, except it's not readily available. This Academy Award nominated documentary explores the complex web of race, class and masculinity that lay behind the infamous 1982 murder of Detroit's Vincent Chin at the hands of two White autoworkers. The conventional wisdom has been that Chin was the victim of racial confusion - the autoworkers thought he was Japanese at a time where anti-Japan sentiment was at its height in Detroit. However, as the documentary tries to disentangle, the reasons for Chin's death are more complicated. The footage of Ron Ebens, one of Chin's two murderers, is both sad and chilling. The film is available for rental but only at institutional prices ($95). Check your local college library first.
Yuri Kochiyama: Portrait of Courage
, dir. Rea Tajiri, 1994.
Yuri Kochiyama might very well be one of the most important Asian Americans many Americans have never heard of - a Civil Rights pioneer for four decades and also a powerful force in uniting the oft-contentious chasm between Asian Americans and African Americans. This documentary by Rea Tajiri gives Yuri's exceptional life and contributions some much needed focus and exposure. Again, it's only available for institutional rental/purchase...hopefully it will be able to reach a broader audience soon. Meanwhile, check your local libraries.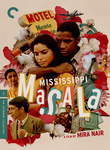 Mississippi Masala
, dir. Mira Nair, 1992.
I generally am not a big fan of films about interracial relationships only because they tend to be incredibly ham-fisted and cliche-ridden but
Mississippi Masala
, despite some predictable, "you're going out with...HIM?!?!?!" scenes, still holds up as being more compelling than most, not to mention a rather ahead-of-its-time film focusing on the South Asian diaspora - in the U.S. South, no less. Plus, you get a hot, young Denzel. What more you want?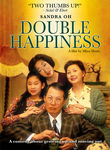 Double Happiness
, dir. Mina Shum, 1995.
Yes, this is a pretty cookie cut family melodrama/generation gap film in many ways, and yes, it has two eye-rolling characters - the mega-conservative dad and the goofy white boyfriend - but straight up, Sandra Oh makes this film watchable every scene she's in.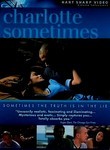 Charlotte Sometimes
, dir. Eric Byler, 2003.
A well-executed, well-acted indie DV film about four intersecting lovers in Silverlake. Some might find it a bit too slow - and possibly contrived - but I liked the pacing and especially liked watching Jacqueline Kim and Michael Idemoto awkwardly dance around each other.
Fall of the I-Hotel
, dir. Curtis Choy, 2005.
Along with
Who Killed Vincent Chin?
, Choy's labor of love is considered one of
the
definitive Asian American documentaries and even though it focuses on events from the 1970s, its power and resonance has yet to fade. I still am deeply moved every time I watch this film which says something about the power of the story behind it - the eviction of elderly Filipino manongs from a residence hotel in the old S.F. Little Manila - but much credit also goes to Choy who does a masterful job of pulling together footage from his own filming and found material. Plus, a beautiful passage featuring the late Al Robles. It's not available for rent but you can buy it and in my opinion, it's worth every dollar.
Coming Up:
I plan to solicit other Starting Sixes from a few colleagues and friends BUT I also want YOUR input. What is your Starting Six? You don't need to annotate (unless you want to). Send your suggestions to: oliverwang AT gmail.com
Thanks!
(Also check out
AsianAmericanFilm.com's three different Top 5 lists
from folks like Peter Feng and Greg Pak. They mix in shorts (whereas I'm asking for all feature-length films) but their tastes also run more unconventional than the list I put together so it's good for contrast. But like the razor wars, they got five and we got six! ;)
Labels: starting six
--O.W.